Bob Coppedge
CEO, Author, Speaker,
Crotchety Old Geek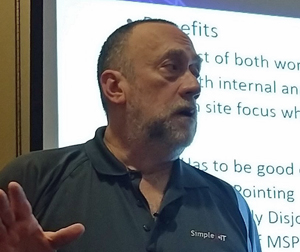 Speaking Topics include:
IT Security
CEO Survival Guide to Information Technology
ABC's of Business Intelligence
When is IT obsolete?
3 ways to improve your IT without Con$ultant$
Identifying Single Points of Failure within your organization
Co-Managed IT services: A new model of IT support
What is the Dark Web?
The Entrepreneurs of Malware
Bio
With over 40 years' experience in IT (Information Technology), Bob has worn just about every hat there is. Developer, Network Engineer, IT Director, CIO (Chief Information Officer), Consultant and, since 2007 CEO of Simplex-IT. He created Simplex-IT (https://Simplex-IT.com) to be the "good guys" in the IT world, specializing making IT work for small to medium businesses. Simplifying the Complex. Simplex-IT.
Bob has authored three books "The MSP's Survival Guide to Co-Managed IT services", "A CEO's Survival Guide to Information Technology", and his latest "I Don't Want Your Job: Is Co-Managed IT services the Right fit for You?". A sought-after speaker, Bob speaks at about 20 events annually. Recent MSP events featuring Bob include IT Nation, MSP World, DattoCon, and TMT Producer Club. Bob regularly speaks at the Ohio Society of CPA events, as well as COSE and other professional Organizations. He has written for and have been quoted by both local and national publications, including Crain's Cleveland Business, Inside Business and The Plain Dealer.
Since July 2020 Bob posts a quick 2-minute video every business day on LinkedIn, where he delivers a message dealing with just about anything. Business, IT, technology, science, history, philosophy. There's no telling where his brain will go.
Regardless of the topic, Bob is known for a no-nonsense but yes-humor style of delivery, getting right to the point of critical topics. He has an uncanny ability to take a complicated topic and break it down into simple components. The topic? He takes seriously. Himself? Not so much.
Bob can translate the technical "geeky" side of IT to business folks and understands the needs of business. He is also oddly enough a graduate of the famed Second City Improv Conservatory.